The Social Enterprises including labour-hire, technology, and construction provide employment, apprenticeships, and housing while enabling Joii to achieve its charitable aims through profit generation.
Joii doesn't encourage donations, instead, we set up Social Enterprises to operate as enablers. While they are change agents themselves, they have a profit-making potential that enables the key objectives of Joii to be fulfilled.
If we do get a donation, our commitment is to use 100% of it on our charitable objectives, with no Administration or other costs allocated against it.
Rather than give a tax deductable donation, we would prefer that you consider using one of our Social Enterprises for your personal or business needs. You will receive a high quality and competitively priced offering that also supports sustainable change.
Our high spend on Staff and Other Expenses
Unlike many charities that receive grants or donations to achieve their objectives, Joii operates multiple small businesses all with normal business input costs such as staff and materials. This means that only the profit margin can be transferred to our social impact works program.
Now that we are transitioning out from the impact of Covid-19 and getting on top of some of the initial one-off setup costs we are seeing the Social Enterprises move into a profitable stage. The aim for 2020-21 is to produce a new high of $1m profit across the group.
Year Ending 2020 Financial Statements, Summary Notes
Revenue – $48,295,575
Revenue main sources – Labour Hire Services ($24,111,110) and Social Enterprises ($21,190,209)
Expenses – $47,572,167
Expenses main costs – Cost of Sales ($31,963,073) and Administration ($10,805,150)
Note: The administration costs are related to the income producing Social Enterprises.
Equity: 
Equity represents the underlying value if all the assets were liquidated and all the organisation's debts were paid off. Joii's Equity at the end 30 June 2020 was $4,790,412 compared to $4,093,201 in 2019 period.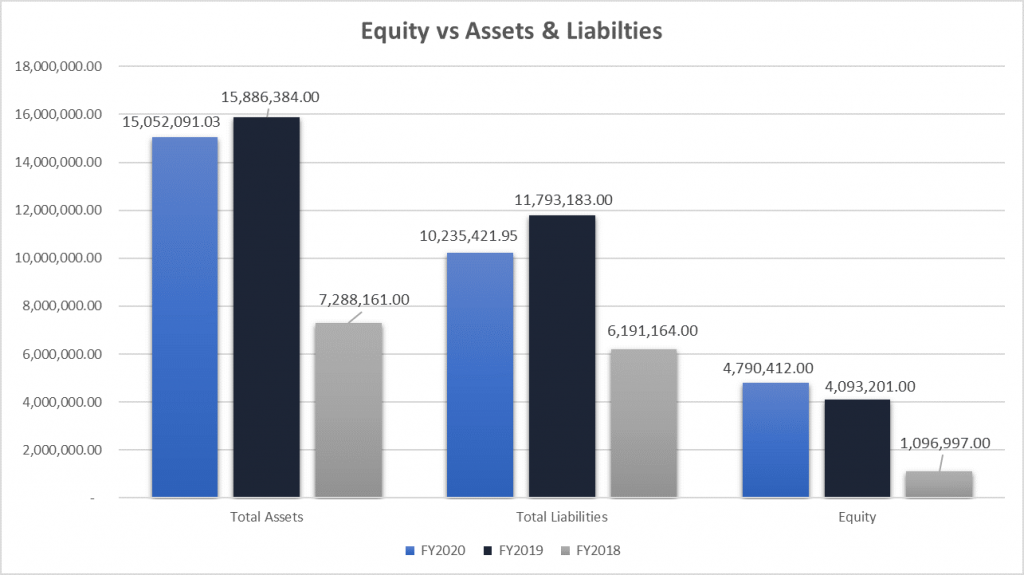 Debt Equity Ratio: Target <1.0
The debt-to-equity (D/E) ratio is calculated by dividing total liabilities by the total equity. These numbers are available on the balance sheet of an organisation's financial statements. It is a measure of the degree to which an organisation is financing its operations through debt versus wholly owned funds.
This graph illustrates that since its establishment, Joii has been highly geared for every dollar of equity, but the trend is positive. This target may seem higher than average when compared with a charity that relies on donations or grants.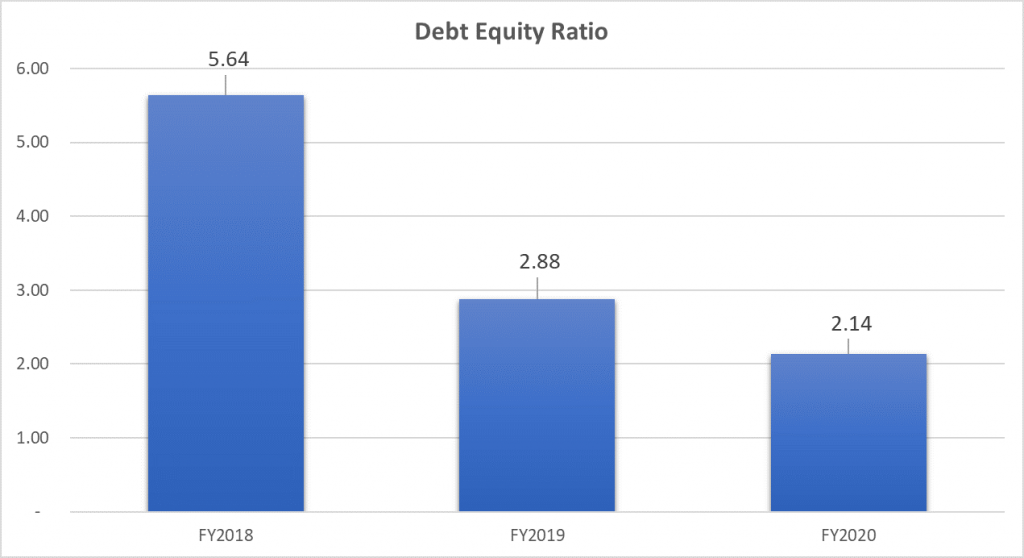 Quick Asset Ratio: Target >1.0
The quick ratio or acid test ratio is a liquidity ratio that measures the ability of an organisation to pay its current liabilities when they come due with only quick assets. Quick assets are current assets that can be converted to cash within 90 days or in the short-term. Joii has significantly increased ratio over 2019 to 1.404:1 as at 30 June 2020.  This demonstrates that Joii is able to pay its short term with 90 days if required.