Joii will assist individuals and families in poverty, distress or disadvantage through a cycle of Launch, Growth, Interdependence and Generosity.
This is the Category we get most excited about and aspire for all Australians to achieve; where people are voluntary and purposefully giving back to those in poverty, distress or disadvantage. This could be through volunteering with Joii, or working independently on another initiative in their community.
This is the Key Driver behind Joii – for somebody who has been through the journey themselves can become a mentor and role model to someone who is vulnerable.
They can guide people through the Launch, Grow and Inter-dependence categories either within or outside of Joii.
When people have reached the category of Generosity, we believe Joii has fully fulfilled its Mission to help vulnerable people.
This should be the shortest transition category- where individuals and families previously in poverty, distress or disadvantage are now able to support themselves and interdependent with the people around them without heavy reliance on Government or external support services.
They are no longer classified as vulnerable according to the Joii Vulnerability Indexes.
They are looking forward to future opportunities and have positive aspirations for themselves and their families.
They are Examples for people currently in the "Launch" and "Growth" Categories.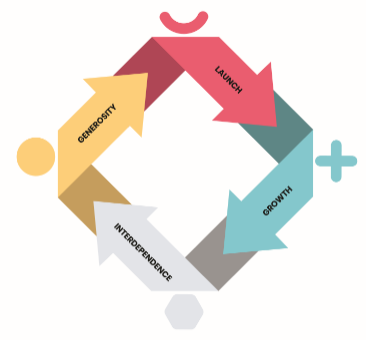 This category is why we exist to help – targeting the relief of poverty, distress or disadvantage for individuals and families.
To do this we need set people on a path to long term job security and to break the cycle of inter-generational poverty through home ownership.
Joii will use a series of Vulnerability Indexes to assist in determining what supports an individual or family needs to break the poverty cycle.
Ultimately, Joii aims to become an employer of over 200k employees which will give many opportunities to create pathways of long term employment, financial security and prevent future inter-generational poverty, distress and disadvantage.
Growth can be a painful process; we can all take 2 steps forward, but as we know we can slide backwards as well.
We believe in growing a strong community providing a diverse range of different job opportunities and housing solutions because we all have different personalities, needs and opportunities available locally.
By having a range of opportunities on offer that align with people's passion and purpose, we can improve the prospects for long term job security. As someone once said, find work that you enjoy doing and you never have to work another day in your life.
Who We Work With
Joii aims to relieve the poverty, distress or disadvantage of individuals or families through its Housing and Employment initiatives. This includes people (but is not limited to):
At or below the poverty line
Unemployed or who are a very low income earner
Experiencing financial distress
Chronic mental health issues
With a disability
Homeless or at risk of homelessness
Currently living in overcrowded, unsafe or illegal housing
At risk of self-harm or suicide
Who are a victim of street violence or domestic violence
CREATING OPPORTUNITY
In all of our social enterprises, we follow an 'above the line' and 'below the line' approach:
We create Social Impact (Above the Line):
Employment and pathways for career advancement

Housing

Social infrastructure

Services

Regional flow on benefits
We generate a Financial Surplus (Below the Line) to:

Invest in sustainability of the social enterprise

Create further Above the Line enterprises;

Resources to partner with like-minded organisations.